Refurbished Range Cookers for Sale

AGA and Rayburn Range Cookers
If you are looking for refurbished range cookers for sale, then we offer the largest selection of refurbished AGA and Rayburn stoves in the UK.

Whether you require an oil or gas-fired stove of a high output range for your central heating, our team of engineers have years of experience and can find the best deal for you.

All our reconditioned AGA range cookers are sold at an affordable cost and at a high-quality standard. Contact our helpful team by giving us a phone call on 01209 214 774. Alternatively, please fill out our contact form.
Oil Burning Ranges
Oil burning ranges are a dependable and low maintenance option compared to electric central heating or traditional open fires. Installing an oil-burning stove into your home provides an economical solution to heating your home.
Heating oil is a safe and easy to use fuel, which offers a consistent fuel source that is available even in the event of a power cut. Oil can easily be stored within maintenance-free tanks so that heat is available throughout the year.
Gas Burning Ranges
Gas burning stoves and ranges provide a convenient heating solution to your home, which is cost-effective and easy to use. Gas fuel is a cost-effective source of heat for warmth, hot water and cooking within your home.
Solid Fuel Burning Ranges
Solid fuel burning ranges (or multi-fuel) offer an efficient solution to open fires. These fuel burning stoves and ranges hold significantly more heat within the room compared to a traditional fireplace which allows large amounts of heat to escape through the chimney.
Multi-fuel burning stoves and ranges are able to use a number of solid fuel sources including coal, smokeless fuel or wood. Whichever solid fuel you wish to use to heat your range, you should check that your chosen stove can accommodate. Each type of fuel requires a different style of stove for best results, so it is important to get expert information about each range.
Buying Refurbished AGA and Rayburn Range Cookers
Here at Country Cookers, we have years of experience in the reconditioned AGA cookers industry, and we are the UK's leading supplier. We can help you with the entire process of buying your reconditioned range cookers, including selection, sales, servicing, delivery and installation.
How much Cheaper is a Preowned Range Cooker?
Brand new Range cookers can be very expensive, and it is definitely cheaper to buy a used one by thousands of pounds! All reconditioned cookers go through the servicing process before sale to ensure all parts perform and work as well as they should.
If during the installation of your old Rayburn oven, you find that parts are needed, you are able to purchase new or reconditioned parts from our sales team.
Can a Range Cooker be used for Central Heating?
Yes, a Range cooker can be used for central heating in your home. Check the installation details to see how your Rayburn or AGA may be used for central heating.
Whether your Rayburn or AGA is old or refurbished, they are so well built, that they can heat your home and provide hot water for years. As well as central heating, AGA and Rayburn ranges provide much more than just an oven and hot plate facility.
Can I Change the Colour of my used Range Cooker?
You can change the colour of AGA Range cookers to whatever you want, including blue, pink, red, grey, black or green. However, this process requires a professional to re-enamel your Range cooker in the colour you choose.
Changing the colour of your Range cooker can make your old one look like a brand new one, and can also make it look perfect with your new kitchen! For more information on changing the colour of your Range cookers, please call us today, or email us through our contact form
Delivery and Installation
We handle everything from sale and servicing to delivery throughout the UK. If you live in Cornwall we can also provide delivery and installation. We discuss any information you may require on refurbished stoves sales. Find out today, why buying a reconditioned range cooker has so many benefits compared to a new one.
Here at Country Cookers, we are the UK's leading supplier, which is why we should be your first point of call! Whether you need advice on an oven model, in need of new parts, details about when to service your cooker or anything else, our fully qualified engineers have years of experience and are happy to help!
We have a large selection of reconditioned stoves in stock, which have already gone through the service process and are fully guaranteed under our warranty. Our sales team can supply refurbished AGA and Rayburn stoves throughout the country.
So if you're looking for a Rayburn or other branded stove anywhere throughout the country, look no further than Country Cookers! Our Rayburns are sold for less than other dealers across the country.
Contact us
If you would like to find out more information or further details about the range of services we offer or a price estimation, please visit our website, send us an email or call us today. One of our team members will always have time to answer the phone, give you the advice you need and offer good quality customer service.
If you would like to see some of our reconditioned AGA cookers, please come and visit our site and have a look round our showroom. We always have a large selection in stock of range cookers to choose from.
Contact our helpful team by giving us a phone call on 01209 214 774. Alternatively, please fill out our contact form.
Second-Hand Range Cooker Sales
Are you looking for a second-hand range cooker for sale? Then look no further, because we can help. We have so many to cookers choose from at very affordable prices. If you would like to view our wide variety of second-hand cookers, please visit our website or give us a call. We are always happy to help and give you a free quote.

Refurbished AGA Stoves
Here at Reconditioned Ranges, we sell refurbished AGA stoves in a wide range of colours. They all look and work as good as new, but at a much more affordable price. We always do a service on the refurbished AGA stoves to ensure they work perfectly, and we refurbish the stoves to an extremely high standard. To see some of our work, please give us a call today.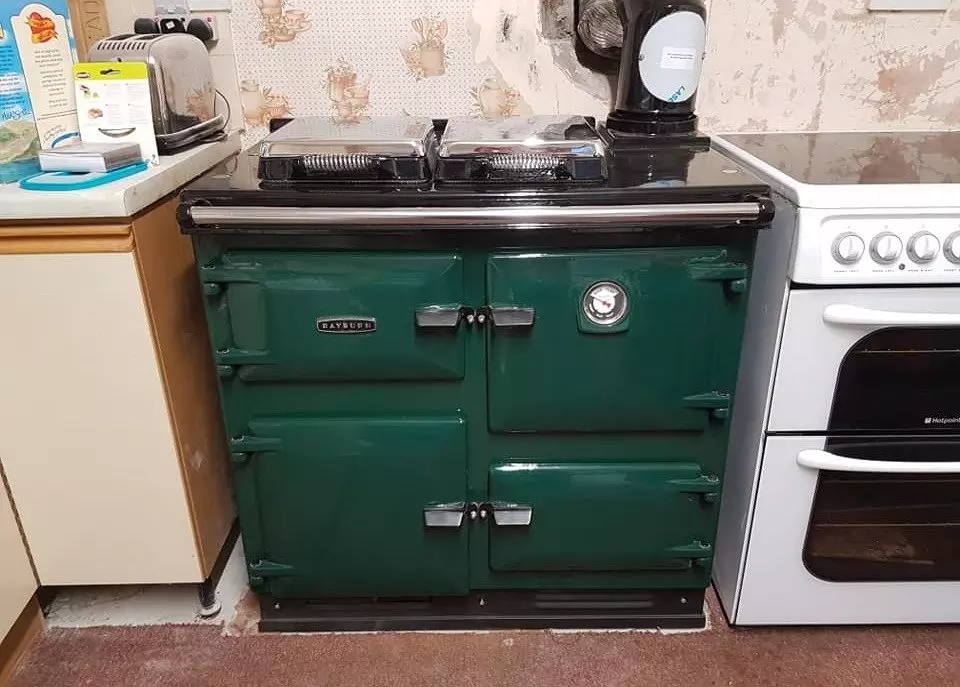 Refurbished Rayburn Stoves
We also sell refurbished Rayburn stoves which are great for all your cooking need. They look as good as new and work as good as new, and we have years of experience in the industry. We have so many to choose from, and so many colours to match your kitchen. If you're looking for an affordable Rayburn stove, then you've come to the right place.
If you are looking for Refurbished Range Cookers for Sale, call 01209 214 774 today. We deliver AGA and Rayburn cookers throughout the UK. Send us an email today with an enquiry so we can let you know which reconditioned ranges are available.