Buying A Traditional Stove Cooker
Posted by:
Admin
Tags:
Three rules for buying a stove
Posted date:
18-07-2022
Are you looking for tips for buying a traditional stove cooker? This article explores the things you need to look for when purchasing a range cooker.
Tips For Buying a Traditional Stove Cooker
Remember the good old days when buying a stove was easy?
There was only a couple of options and a few decisions to make and you could have a good quality stove in your home ready to go.
Now though you are sure to learn a new language and spend many hours in front of a computer before the mystery of which stove to buy is solved. Thankfully we have rules, if followed, they will make your life a whole lot easier.
Number 1: The first rule about buying a stove is know your needs. Have a think about what you use your stove for already.
What do you wish your current stove had?
Cook a lot of roast dinners?
Do you need double wall ovens or a single oven?
Having a think about what you use your current oven for and what you would like to do with your next oven is a great way of narrowing down your search.
Number 2: Consider variety. This goes back to getting what you would like out of a stove. Consider the key features that you love about your current stove and which ones you can live without. This is all about practical needs.
If a feature is ultimately going to save you time and stress in the long run then perhaps paying a little more is wise. If it is just simply a gadget that you have no use for then perhaps not so much but always consider variety.
Number 3: The most important rule, know your budget. You will find that there are many stoves out there offering amazing things at high prices. Be aware of your budget and then you know when to stop looking.
Used Range Cookers for Sale
There are many great stoves out there from great companies and you will find one that is perfect for you within your budget.
Perhaps the most cost effective way to get the best stove possible is to buy a reconditioned one. They last just as long as the new models and have many great features. Reconditioned ranges can be up to 75% cheaper than a new one!
What is a traditional range cooker?
A range cooker is a free-standing combination of a hob and oven and is usually located between kitchen cabinets and other appliances. Traditional range cookers are usually found in country manors or farmhouses as there is a lot of cooking space and heat produced.
They are bigger than an average cooker with more modern designs and functions because their size varies from 70 to 150 centimetres. Bigger classic range cookers can include two ovens, a grill, a warming compartment, or a storage drawer.

What are the benefits of range cookers?
Compared to having an integrated standard oven, having a dual fuel range cooker, for example, in your kitchen comes with many benefits.

Range cookers offer the best potential for creating a focal point in your kitchen. Given their available sizes, colours, and stature, range cookers are a kitchen feature that you can style the rest of the room around. Traditional range cookers create a rustic feel that makes a home homely.
A range cooker is a worthwhile investment to save money on any separate cabinets, jobs, or worktops. Essentially, a range cooker comprises an entire kitchen into one single appliance.
Another benefit to purchasing one, especially if you wanted to move house afterwards, they are freestanding and can be taken with you. On the contrary, an integrated cooker would have to be uninstalled before moving or left behind in your previous house.
The practicality of a range cooker is incredible. Range cookers offer more capacity and heating features than integrated cookers, having the potential to benefit more rooms than just your kitchen.
The amount of heat storage a range cooker offers can effectively keep something hot and ready to eat minutes after you have cooked it. Furthermore, you can purchase a range cooker with an integrated boiler and provide hot water as central heating for your whole home.
Wood-burning range cookers are durable and last a long time which is why they have higher upfront costs than integrated ovens. Our previous mention can also justify the costs that a range cooker is essentially three appliances in one.
Wood-burning range cookers require minimal maintenance because they have free parts that can deteriorate or malfunction.
In larger range cookers, storage compartments can help you store any kitchen pans, pots, and utensils that are strewn about your counters. It is wise to research this as some do not come with built-in storage units, and it would be good to keep your kitchen clutter-free when it comes to prepping and cooking food.
Why Should I Buy A Range Cooker?
So, why should you buy a dual fuel, electric range cooker? As we have mentioned before, there are many considerations to take before purchasing a new stove- but look no further because we are here to help.
Factor in any requirements you have for the capacity, design, durability, and aesthetic you want. Depending on what you choose will dictate how much space you have to cook, where the focal point of your kitchen is, how long the cooker lasts, whether it is automatic or manual, and whether it is fuelled by electric, or dual fuel.

Style Decisions
You should search for your ideal range cooker by looking at functional aspects first and styles second. Let style be the factor that narrows down your final choices.
When looking for a traditional range cooker, you will be looking for one with a conventional aesthetic. The aesthetic of the cooker will dictate whether you have a different layout of two ovens or one massive oven recess.
Alternatively, a customisable range cooker could be the option for you if you cannot find the right model or design.
Lacanche-branded range cookers allow you to specify the size, layout of the induction hobs and ovens, fuel type, colours, and fit. It is a more expensive option to have a custom cooker built to your specifications.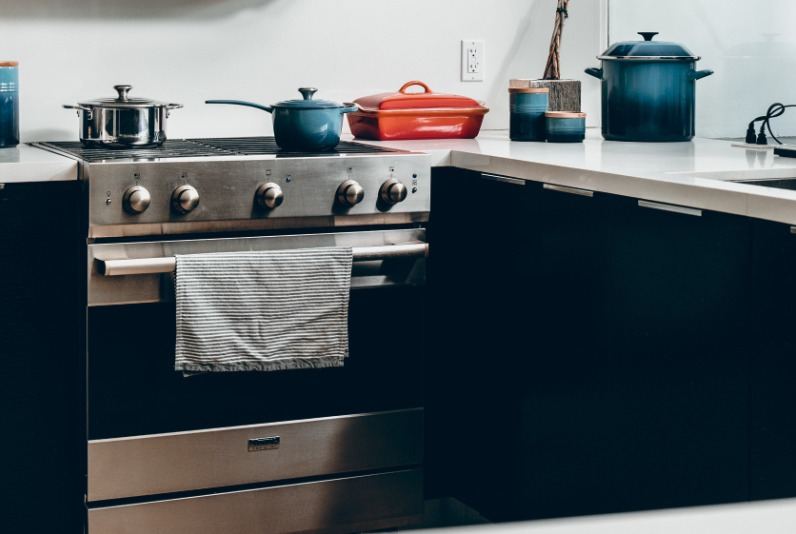 Size Considerations
Take into consideration the capacity of your chosen cooker. If your traditional range cooker takes up a lot of space, then your other kitchen compartments will only be able to take up a reduced amount of space.
Range cookers generally come in the following three sizes 90cm, 100cm, and 110cm. On the contrary, some models can be built up to 220cm wide, such as 4-Oven Aga and Lacanche. They are not ideal for domestic kitchens but are apt for commercial kitchens.
Be aware that the internal size of the cooker is just as important as the external because the amount of food you cook and bake relies on the depth. Most cookers are 60cm deep for optimal cooking, but many models are shallower or deeper.

What To Consider when buying a wood-burning range cooker
Buying a wood-burning range cooker can demand a big commitment from you. It takes time to research, money to invest, and space to fill to own the right cooker.

There are wood-burning range cookers available in various air and combustion systems, including primary air, secondary and tertiary air, and post-combustion systems.These systems are important to know how to start and control the fire.
Ensure that you feel comfortable with your chosen range cooker's air and combustion system.
The body of a range cooker's oven contains a catalytic liner that absorbs any food splashes and grease from cooking food. The liner is a slightly bumpy surface that captures food debris and burns it off when the cooker is at a high temperature.
They are not entirely self-cleaning, but they significantly reduce the amount of manual maintenance and cleaning you need to put in.
Depending on the type of electric range cooker you want, some model-specific cooking accessories may come with it. Accessories may include griddles, induction, in-built telescopic runners, and roasting trays.
It would be good for you to research the cooking accessories you may want, as you could purchase a cooker without them. On the other hand, you could buy extra cooking accessories if a cooker has that option.
You must abide by the DEFRA regulations, whereby DEFRA approval allows the use of wood-burning appliances within smoke-controlled areas.
It is important to buy a wood-burning range cooker that is DEFRA-approved and that you have the necessary certification.
Another regulation to pay heed to is EcoDesign. EcoDesign was introduced to reduce emissions and improve the efficiency of wood-burning appliances.
It is a criminal offence to install a wood-burning appliance in your home if it does not comply with these regulations, and you will be subject to hefty fines. One of the signs that your range cooker is EcoDesign-approved will be a clearSkies badge.
If your home is sealed, you will need an external air range cooker as fire requires oxygen to function properly. An external air range cooker is a duct that runs through the external wall of your home for your range to take the oxygen it needs to keep working effectively.
If your home has not been sealed, then it is safe to install an internal air cooking range. The air inside your home is then fed to the fire within the cooker.
If your range cooker burns wood, you must ensure that your house has a chimney flue liner and stovepipe. Some range cookers include fitting kits that include stovepipes, registration plates, and stove gloves.
It would be good to research if your cooker comes with these necessities because if it does not, you will have to spend more money safety-proofing your house. Chimney flue liners and stovepipes are essential for venting combustibles and smoke out of a home.
If you want this for your home, then consider purchasing a wood-burning range cooker than comes with a built-in glass window that safely showcases a panorama of flames.
A panoramic glass also allows you to check on your food as it cooks. We recommend getting ceramic glass as this is easier to clean and less likely to cloud up or stain.
It is important to check the rated thermal output of a range cooker. After all, the amount of heat it provides will give you an insight into how effective it will cook your food and/or heat your home.
Rated thermal outputs are measured as a net value of kW. Most wood-burning range cookers have an average heat output of 6kW.
Most cookers are built from a material that is as durable as it is heavy: cast iron. Some range cookers can weigh a hefty 300kg, others even more. A piece of advice is to check your kitchen floor can take the weight of your new cooker.
It is just as equally important to ensure your kitchen floor is level to prevent your cooker from shifting.
---
Refurbished AGA and Rayburn Cookers for Sale
Are you looking for Refurbished AGA and Rayburn Cookers for Sale? Country Cookers are your first choice for high quality reconditioned AGA and Rayburn range cookers and stoves throughout the UK. Our family run business based in Cornwall specialises in providing the best examples of each make and model of range available.
Are you looking for high quality refurbished range cookers? Speak with one of our representatives today on 01209 214 774 .