Aga Range Cooker Removal in Cornwall
Aga Dismantling and Moving
Aga range cookers are not just any ordinary kitchen appliance. They are sophisticated, intricately crafted machines that require special attention during relocation. Simply attempting to move them as a whole unit can invite a plethora of problems.
There's a high risk of cracks appearing in the castings, a potential for steel panels to twist or become misshapen, and even a chance for the tie rods to buckle under pressure.
The electric versions of these Aga range cookers come with their own set of challenges. Their design incorporates delicate components such as the control panel and heating elements. These parts, due to their fragility, are especially prone to damage when in transit. A single mishap can lead to costly repairs or even the need for a complete replacement.
Understanding these intricacies and potential pitfalls is crucial if one is thinking of relocating their Aga cooker. Rather than navigating this complex process alone and risking potential damage, it's advisable to seek expert assistance.
Our team specialises in the careful dismantling, transporting, and reassembly of Aga cookers. We're trained to handle them with the utmost care, ensuring they reach their new location in pristine condition. Save yourself potential headaches and reach out to us for a smooth, efficient, and stress-free Aga relocation experience.
---
Contact us for Range Cooker Removal Cornwall
Specialist Aga Removal Equipment and Training
Managing Aga range cookers, both in installation and removal is a specialised task we approach with great care. Recognising the intricacies of these appliances, we've put together a skilled team equipped with advanced tools. A unique challenge we're adept at handling is the safe management of asbestos, often present in older Aga models.
Our technicians use specially outfitted vehicles for the task, ensuring each component is meticulously dismantled. This careful method not only safeguards the cooker's parts but also protects your home's flooring and doors.
Post-dismantling, we offer flexible solutions. You can choose to have us safely dispose of the cooker, keep its organised parts on a pallet, or send them for eco-conscious recycling. In every step, our goal is to maintain Aga's integrity while ensuring a smooth experience for you.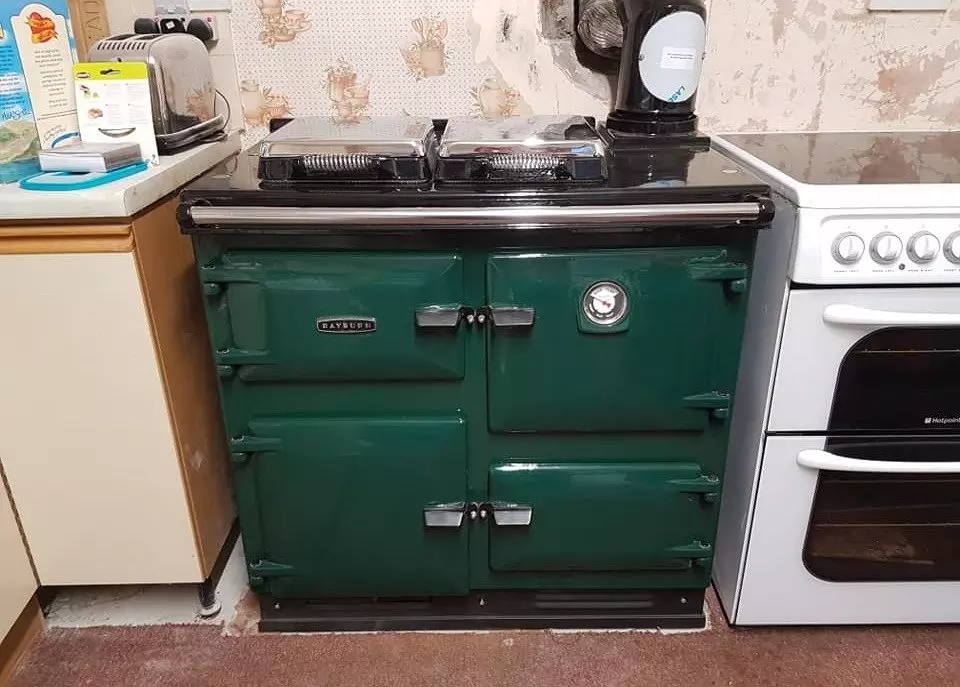 Having an Aga Dismantled
Dismantling an Aga cooker with professional expertise usually spans around half a day. While this procedure inherently involves dust and disruption, our commitment to treating your home with respect remains unwavering.
We're deeply conscious that your home is more than just a space; it's a reflection of your memories, choices, and values. Hence, even amidst the potential messiness of the task, we pledge to uphold the sanctity of your living space.
Our systematic approach starts with the careful release of the top plate. Once this is done, the insulation underneath is diligently removed, ensuring each piece is properly bagged to prevent any residual mess. Subsequently, the individual components of the Aga are unbolted, detached, and categorised.
The final touch is the organised stacking of these parts onto a pallet, ensuring they're ready for transport or storage. With us, your Aga and home both receive meticulous attention.
Our Aga Removal and Relocation Service
Choosing an Oil or Electric Aga is not merely a kitchen decision; it's an investment in quality, tradition, and enduring craftsmanship.
Whether you've made a recent purchase, are transitioning to a new home, or desire a fresh rearrangement in your current kitchen, our expertise is at your disposal to guide and support you every step of the way.
Our team, with its deep-rooted knowledge and dedication, ensures that the process is seamless. We delicately dismantle your Aga, taking care to pack and wrap each component securely.
This ensures your Aga remains unblemished, regardless of its journey. Whether you envision its new spot immediately or are still in the planning phase, we can either facilitate a swift relocation and reinstallation or safeguard it in our workshop until you're set.
Our Removal and Relocation Service encompasses:
Careful dismantling by experienced professionals.
Safe and reliable transportation tailored to your Aga's specifications.
Skilled installation, ensuring your cooker is up and running flawlessly.
Convenient storage options, align with your timelines and needs.
Refurbishment services, revitalising older units.
Efficient re-insulation, optimising your Aga's performance.
With us, your Aga's transition is not only smooth but also infused with an assurance of quality and longevity.
Area's We Cover
If you are looking for AGA range cooker removal, dismantling and moving, contact our experts today. Please get in touch using either the contact form link or phone number below to discuss your requirements. We work throughout Cornwall including the following areas:
St Ives
Looe
Falmouth
Fowey
Truro
Padstow
Port Isaac
Newquay
Bodmin
Please Note: If you location isn't specified here, please feel free to get in contact with us as we maybe able to cover your local area.
---
Contact us for Range Cooker Removal Cornwall